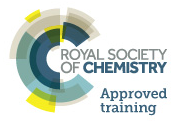 Anthias Consulting Ltd are experts in the separation sciences in the fields of Gas Chromatography (GC), Mass Spectrometry (GC-MS) and related techniques.
We cover all GC & GC-MS techniques and bring over three decades of hands-on GC experience to the table, helping you build and develop your knowledge using a variety of instruments and techniques in the field.
Our trainers and consultants are members of the Royal Society of Chemistry (RSC), current practitioners in the field of Analytical Chemistry, and many of our training courses have been approved by the Royal Society of Chemistry for purposes of Continuing Professional Development.
We offer independent training and consulting services to GC manufacturers, laboratory analysts & technicians, PhD students and technical consultants across all levels of experience, and are able to tailor any of our services to Your needs.
What we offer:
        GC & GC – MS training courses – beginners to advanced
        In-house training courses targeted to Your team
        Design of external training programmes
With us you have the guarantee of a no-sales environment, focused on getting you to where you want to be in your knowledge. Our knowledge can be applied to any manufacturer's instrumentation, with complementary services offered in a flexible, professional and personal manner, able to define and meet your needs whatever industry you are in.
Latest News
There's no better time to book for GC & GC-MS training in Autumn/Winter 2016!
Diane Turner and Richard Stokes from Anthias Consulting will be presenting at a Purge & Trap Seminar on 6th October 2016, in partnership with Davidson Analytical Services [DAS].
Anthias are pleased to announce partnering with laboratory equipment, consumables and chemicals/reagents supplier Stratlab as part of an on-going commitment to make our high quality training in GC and GC-MS disciplines accessible to those with a need.


Pages