Submitted by webmaster on
Dr Diane Turner was thrilled to make it to Pittcon this year for the first time and delighted to be selected to present four short courses at the conference.
Diane attended for the full duration, teaching on the opening Saturday through to the final day of the event.
Diane's courses were well attended with several of the delegates having previously trained with Anthias on scheduled courses in the UK. The short courses from Anthias covered GC & GC-MS Troubleshooting & Maintenance, Sample Introduction in GC & GC-MS, Practical Essentials of Thermal Desorption (Hands-on Thermal Desorption course but without the practicals) and GC & GC-MS Method Development. The four courses are approved by the Royal Society of Chemistry for the purposes of CPD, underpinning the quality of the training and contributing to delegates' formal professional development.
With the expo running alongside the short courses programme, delegates were able to visit instrument manufacturers' stands and see demonstrations, enabling them to relate the knowledge gained on the course with the real parts of the instrumentation. Thanks to Markes International and Gerstel for the practical demonstrations!
In between teaching, Diane enjoyed visiting the busy exhibition halls to view the latest products and innovations and meeting up with Anthias partners.
Diane also enjoyed parts of the busy technical program, in particular the keynote presentation by Scottish scientist Sir Fraser Stoddart, 2016 Nobel Laureate in Chemistry.
Sir Fraser's lecture entitled "Serendipity Stokes Discovery: Disrupting Established Industries" detailed the discoveries of two materials and their potential as game-changing technologies for environmentally friendly products and sustainable processes in applications ranging from food processing to gold mining. Diane commented that it was 'inspiring'.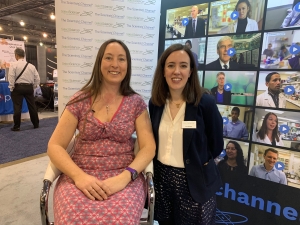 Diane recording an interview with Lois Manton-O'Byrne from Select Science for The Scientists' channel.
Look out for the video available soon!
Presentation of the Select Science awards.
Diane said: "It was wonderful to have the opportunity to teach at Pittcon and to meet with so many colleagues, friends, partners and customers, some of whom I haven't seen for years. We are seeing more and more delegates from North America attending our training courses here in the UK as demand for face-to-face training grows there. It was a wonderful opportunity to connect with analysts from the local region as well as from around the world at what is a truly global event."
See upcoming conferences and exhibitions that Anthias will be attending and presenting at here.