Our consultants frequently present on a range of analytical chemistry topics at industry conferences.
If you would like to discuss a speaking opportunity with us, please contact us.
Upcoming Events
Dr Diane Turner will be speaking at the Technology Networks webinar 'Innovations in Mass Spectrometry: Exploring the Latest Advances' on 29th June at 4:00pm BST.
Don't miss this webinar to hear about the most recent and innovative developments in the world of mass spectrometry and how they are helping to drive science forward.
To find out more and register, visit the Technology Networks website.
Lab Innovations - 4th - 5th November 2020, Birmingham, UK
Anthias Consulting will be exhibiting at Lab Innovations in 2020. Visit us on stand L13!
ArabLAB has been postponed until 22nd - 24th March 2021
If you would like to meet to discuss your training requirements while at the show, please get in touch.
2020 Events
SelectScience Virtual Analytical Summit 2020
Dr Diane Turner presented at the SelectScience Virtual Analytical Summit on 31 March - 2nd April 2020, which provided a forum for scientists and manufacturers to continue to connect to advance science.
Pittcon - 1st - 5th March 2020, Chicago, Illinois, USA
Dr Diane Turner and Richard Stokes presented short courses at Pittcon 2020. Find out more and register on the Pittcon website.
Saturday 29th February 2020 Absolute Basics of Gas Chromatography & Gas Chromatography-Mass Spectrometry.
Sunday 1st March 2020 Practical Essentials of GC & GC-MS - Day 1.
Monday 2nd March 2020 Practical Essentials of GC & GC-MS - Day 2.
16th International Symposium on Hyphenated Techniques in Chromatography and Separation Technology (HTC-16) - 29th - 31st January 2020, Ghent, Belgium
We attended the HTC-16 conference which featured a full programme covering the latest developments in separation technologies and hyphenated techniques. Find out more at the event website.
2019 Events
LECO Separation Science Symposium 29th and 30th October 2019, Manchester, UK
Dr Diane Turner gave a talk on 'Selectivity: Where, When and How to Use It!' at this symposium which offered the chance to hear from a range of expert speakers and network with analysts from multiple disciplines. Diane was also part of a Q&A panel session at the event. Find out more and register on the LECO website.
Lab Innovations - 30th and 31st October 2019, Birmingham, UK
Dr Diane Turner presented at Lab Innovations with her talk on 'Using the Periodic Table in our GC-MS analyses' as part of the Royal Society of Chemistry's programme celebrating the International Year of The Periodic Table. A copy of Diane's presentation is available for download here.
Recent advances in VOC and SVOC sampling - 25th September 2019, Manchester, UK
Dr Diane Turner presented at this workshop hosted by Markes International.
Emerging Analytical Professionals (EAP) - 10th - 12th May 2019, Leeds, UK
The Analytical Science Network annual conference provides networking and continuing professional development (CPD) opportunities for early career analytical scientists across all disciplines. The 2019 conference theme was Elementary: Exploring the Analytical Sciences' exploring how analytical science underpins the sciences. This included topics such as electrochemistry, environmental, forensics, safety and security, pharmaceuticals, spectrometry and much more. Dr Diane Turner presented a CPD session 'Method development and method validation: The key to success!' covering all applications and techniques.
The ASN's next event is the Bright Spark Symposium 2019 on 13th September 2019 at the University of Brighton. To find out more this and future events, visit the Analytical Science Network website.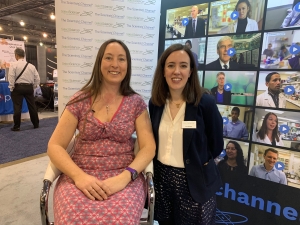 Pittcon 2019 - 17th - 21st March 2019, Philadelphia, USA. Dr Diane Turner presented four short courses at Pittcon 2019. Diane's courses were well attended with 52 delegates trained over the 4 days:
GC & GC-MS Troubleshooting & Maintenance

Sample Introduction in GC & GC-MS

Practical Essentials of Thermal Desorption

GC & GC-MS Method Development
To find out more about next year's event, visit the Pittcon website.
2018 Events
Lab Innovations - 31st October and 1st November 2018, Birmingham, UK
Dr Diane Turner gave a presentation on each of the two days as part of the seminar programme in the Royal Society of Chemistry Theatre within the key themes of human health and the environment:
Upgrade your techniques with sorptive analysis for disease diagnosis

Upgrade your techniques with thermal desorption for air quality monitoring