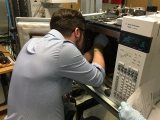 Anthias Consulting are pleased to announce their Comprehensive training courses on Agilent GC and GC-MS systems have been approved for the next three years by the Royal Society of Chemistry for purposes of Continuing Professional Development (CPD).
The courses provide a complete training solution in hardware and software operation, with a strong practical focus; working through hardware exercises to perform maintenance and troubleshooting, or software-specific exercises to set-up methods, sequences and analyse data.
Approval from the RSC for CPD involves peer review of technical content and assessment of course materials, by experts in the field. The course content must adhere to rigorous quality standards and must demonstrate the constant appraisal and improvement of the course.
The approval underlines the high quality of Anthias' training material, along with their robust process for review and improvement, via attendee feedback.
There are a variety of delivery options to receive the training. Face-to-face training courses take place at Anthias' training facility hosted by the School of Physical Sciences at The Open University, offering a suite of instrumentation from multiple manufacturers. The training facility provides an opportunity for analysts to learn and apply the knowledge, gain practical experience, and build their skills under the guidance of an expert.
Anthias have successfully delivered their Comprehensive software courses online in their virtual classroom since April 2020. For those courses which contain practical exercises or software demonstrations, the software room of the virtual classroom enables the trainer to share their screen to carry out these exercises live. Where applicable and where participants have access to the software on their PC, they can perform these exercises at the same time during the training.
The online software courses are also available On-Demand, offering the flexibility to receive the training at a convenient time for the delegate. Attendees are provided with a link to access a recording of the training and, after viewing the training, can email questions to the trainer and receive answers back by email. See a list of courses available to attend On-Demand.
The following training courses are approved by the Royal Society of Chemistry for purposes of CPD:
Anthias trainers can also teach any of these courses onsite using your instrumentation, with tailoring as required – get in touch to find out more. You can also subscribe to Anthias' newsletters to be the first to hear when scheduled course dates are announced.
For a full list of CPD-approved training courses available, visit the Royal Society of Chemistry's searchable CPD database.