Submitted by webmaster on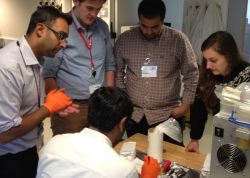 Book now for hands-on training in February and March. Our generic hands-on training courses have a maximum of 5 delegates to ensure the needs of every individual are met through focused support.
These courses combine a mixture of classroom-based presentations covering the essential theory then putting the knowledge into practice in the laboratory with hands-on exercises, with 50% of the time spent in the laboratory using the instrumentation.
View our 2019 Course Calendar | Browse all courses
| | | | | | |
| --- | --- | --- | --- | --- | --- |
| Date | Course Title | Days | Price |   | Details & register |
| 25th February | Hands-on Complete HPLC & LC-MS | 5 | £1,990 |   | Details & register |
| 25th February | Hands-on HPLC Theory, Methods, Maintenance & Troubleshooting | 3 | £1,385 |   | Details & register |
| 25th February | Hands-on HPLC Theory, Methods & Maintenance | 2 | £975 |   | Details & register |
| 25th February | Hands-on HPLC Theory and Methods | 1 | £525 |   | Details & register |
| 26th February | Hands-on HPLC Maintenance | 1 | £525 |   | Details & register |
| 27th February | Hands-on LC-MS Theory, Methods, Maintenance and Troubleshooting | 3 | £1,385 |   | Details & register |
| 27th February | Hands-on LC-MS Theory, Methods and Maintenance | 2 | £975 |   | Details & register |
| 27th February | Hands-on LC-MS Theory and Methods | 1 | £525 |   | Details & register |
| 28th February | Hands-on LC-MS Maintenance | 1 | £525 |   | Details & register |
| 1st March | Hands-on HPLC & LC-MS Troubleshooting | 1 | £525 |   | Details & register |
| 11th March | Hands-on Advanced Injection for GC & GC-MS | 2 | £925 |   | Details & register |
| 11th March | Hands-on Multi-Mode Inlets (MMIs) & Programmable Temperature Vapourisers (PTVs) | 1 | £499 |   | Details & register |
| 12th March | Hands-on Large Volume Injection (LVI) | 1 | £499 |   | Details & register |
| 13th March | Hands-on Liquid-Liquid Extraction | 1 | £499 |   | Details & register |
| 14th March | Hands-on Derivatisation | 1 | £499 |   | Details & register |
| 14th March | Hands-on Solid-Phase Extraction (SPE) | 1 | £499 |   | Details & register |
| 18th March | Hands-on Sample Preparation for GC & GC-MS | 5 | £1,870 |   | Details & register |
| 18th March | Hands-on Solid-Phase Micro-Extraction (SPME) | 1 | £499 |   | Details & register |
| 19th March | Hands-on Headspace (HS) | 1 | £499 |   | Details & register |
| 20th March | Hands-on Purge-and-Trap (P&T) | 1 | £499 |   | Details & register |
| 21st March | Hands-on Thermal Desorption (TD) | 1 | £499 |   | Details & register |
| 22nd March | Hands-on Pyrolysis (Py) | 1 | £499 |   | Details & register |